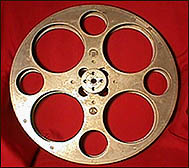 Lists of eligible cinema are available here (cinema seen in 2001) and here (cinema seen in 2002). Typically, eligible cinema range from February of 2001 to February of 2002.

Winners were announced at the 2nd Annual Ufies ceremony, which took place at the Uber Film Awards Lounge in San Francisco before the incredibly inferior Oscars ceremony (which was the UFies post-ceremony event) on Sunday March 24, 2002 @ 3pm.

Still need to change the "Nominations" image at the top!

To the winners...

---
Gosford Park
*Memento - winner
The Others
Vanilla Sky




Donnie Darko
Happy Accidents
*Hedwig and the Angry Inch - winner
Jump Tomorrow
Waking Life




A Beautiful Mind
*TLOTR: The Fellowship of the Ring - winner
Monsters, Inc.
Moulin Rouge
---

*Robert Altman (Gosford Park) - winner
Alejandro Amenabar (The Others)
Wes Anderson (The Royal Tenenbaums)
Ron Howard (A Beautiful Mind)
Peter Jackson (TLOTR: The Fellowship of the Ring)
---
A Beautiful Mind
*Gosford Park - winner
Memento
The Others
The Royal Tenenbaums




Ali
From Hell
*The Man Who Wasn't There - winner
The Others
The Royal Tenenbaums




Gosford Park
*Memento - winner
The Others
The Royal Tenenbaums
Waking Life
---
Halle Berry (Monster's Ball)
Nicole Kidman (The Others)
*Sissy Spacek (In the Bedroom) - winner
Marisa Tomei (Happy Accidents)




Russell Crowe (A Beautiful Mind)
Tom Cruise (Vanilla Sky)
John Cameron Mitchell (Hedwig and the Angry Inch)
*Guy Pearce (Memento) - winner
Tom Wilkinson (In the Bedroom)
---
Steve Buscemi (Ghost World)
Hippolyte Girardot (Jump Tomorrow)
Gene Hackman (The Royal Tenenbaums)
*Ian McKellan (TLOTR: The Fellowship of the Ring) - winner
Luke Wilson (The Royal Tenenbaums)




Penelope Cruz (Vanilla Sky)
Alakina Mann (The Others)
Julianne Moore (The Shipping News)
Gwyneth Paltrow (The Royal Tenenbaums)
*Emily Watson (Gosford Park) - winner
---

Gosford Park
TLOTR: The Fellowship of the Ring
Ocean's Eleven (excluding JULIA)
*The Royal Tenenbaums - winner
---

*Hedwig and the Angry Inch (Stephen Trask - score/soundtrack) - winner
The Man Who Wasn't There (Carter Burwell - score)
Moulin Rouge (soundtrack)
Ocean's Eleven (David Holmes - score)
The Royal Tenenbaums (soundtrack)
---

Amelie (France)
Burnt Money (Argentina)
No Man's Land (Bosnia-Herzegovina)
The Taste of Others (France)
*Together (Sweden) - winner
---
Jay and Silent Bob Strike Back
*Jurassic Park 3 - winner
The Musketeer
Pearl Harbor
The Pledge




The Affair of the Necklace
The Center of the World
*The Deep End - winner
The Golden Bowl
Liam
---