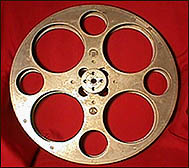 Winners were announced at the 4th Annual Ufies ceremony in San Francisco on Sunday February 29th, 2004 @ 5pm, before the incredibly inferior Oscars ceremony (which was the Ufies post-ceremony event).

Lists of eligible cinema are available here (cinema seen in 2003) and here (some cinema seen in 2004 but released in SF in 2003).

To the winners (announced in bold and blue)...


---
21 Grams
House of Sand and Fog
Lost in Translation





American Splendor
Monster
The Safety of Objects
The Station Agent





Finding Nemo
The Last Samurai
The Lord of the Rings: The Return of the King
Master and Commander: The Far Side of the World
School of Rock

---

Alejandro González Iñárritu - 21 Grams
Peter Jackson - The Lord of the Rings: The Return of the King
Vadim Perelman - House of Sand and Fog
Rose Troche - The Safety of Objects
Peter Weir - Master and Commander: The Far Side of the World

---
21 Grams
American Splendor
The Lord of the Rings: The Return of the King
The Safety of Objects
The Station Agent





Kill Bill Vol. I
The Last Samurai
The Lord of the Rings: The Return of the King
Master and Commander: The Far Side of the World
Seabiscuit





Kill Bill Vol. I
The Last Samurai
The Lord of the Rings: The Return of the King
Master and Commander: The Far Side of the World

---
Glenn Close - The Safety of Objects
Jennifer Connelly - House of Sand and Fog
Charlize Theron - Monster
Naomi Watts - 21 Grams





Johnny Depp - Pirates of the Caribbean: The Curse of the Black Pearl
Paul Giamatti - American Splendor
Philip Seymour Hoffman - Owning Mahowny
Ben Kingsley - House of Sand and Fog
Sean Penn - 21 Grams

---
Alec Baldwin - The Cooler
Paul Bettany - Master and Commander: The Far Side of the World
Bobby Cannavale - The Station Agent
Benicio Del Toro - 21 Grams
Ken Watanabe - The Last Samurai





Patricia Clarkson - The Safety of Objects
Patricia Clarkson - The Station Agent
Joan Cusack - School of Rock
Olympia Dukakis - The Event
Frances McDormand - Laurel Canyon

---

Laurel Canyon
The Lord of the Rings: The Return of the King
The Safety of Objects
School of Rock
The Station Agent

---

The Lord of the Rings: The Return of the King
Lost in Translation
A Mighty Wind
The Safety of Objects
School of Rock

---

Blind Spot: Hitler's Secretary
Cinemania
Spellbound
Winged Migration

---

The Barbarian Invasions (Canada)
City of God (Brazil)
Dirty Pretty Things (UK)
In America (Ireland)
The Triplets of Belleville (Canada)

---
Intolerable Cruelty
The Matrix Revolutions
Mystic River
Once Upon a Time in Mexico
Underworld





The Good Thief
Le Divorce
Morvern Callar
The Secret Lives of Dentists
Till Human Voices Wake Us

---